FAQ About Ambien
---
Q) What is Ambien?

A) Ambien with the generic name of Zolpidem belongs to a class of medicines that effects the central nervous system, called sedative hypnotics. Ambien is closely related to a family of drugs called benzodiazepines. These drugs cause sedation, muscle relaxation, act as anti-convulsants (anti-seizure), and have anti-anxiety properties. Ambien has selectivity in that it has little of the muscle relaxant or anti-seizure effect and more of the sedative effect. Therefore, it is used as a medication for sleep.

---
Q) How is Ambien used?
A) When abused, Ambien tablets are taken orally, crushed and then snorted, or dissolved in water and "cooked" for intravenous injection.
---
Q) What are the effects of Ambien?
A)
Daytime drowsiness
Dizziness
Lightheadedness
Difficulty with coordination
Tolerance
Dependence
Changing in thinking and/or behavior
Ambien may cause special type of memory loss known as amnesia. When this occurs, a person may not remember what has happened for several hours after taking the medicine. In addition, addiction, or dependence, can be caused by Ambien, especially when used regularly for longer than a few weeks or at high doses. People who have been dependent on alcohol or other drugs in the past may have a greater chance of becoming addicted to Ambien. Some people using Ambien have experienced unusual changes in their thinking and/or behavior.
Less common side effects may include:
Abdominal pain, abnormal dreams, abnormal vision, agitation, amnesia, anxiety, arthritis, back pain, bronchitis, burning sensation, chest pain, confusion, constipation, coughing, daytime sleeping, decreased mental alertness, depression, diarrhea, difficulty breathing, difficulty concentrating, difficulty swallowing, diminished sensitivity to touch, dizziness on standing, double vision, dry mouth, emotional instability, exaggerated feeling of well-being, eye irritation, falling, fatigue, fever, flu-like symptoms, gas, general discomfort, hallucination, hiccup, high blood pressure, high blood sugar, increased sweating, infection, insomnia, itching, joint pain, lack of bladder control, lack of coordination, lethargy, light-headedness, loss of appetite, menstrual disorder, migraine, muscle pain, nasal inflammation, nervousness, numbness, paleness, prickling or tingling sensation, rapid heartbeat, rash, ringing in the ears, sinus inflammation, sleep disorder, speech difficulties, swelling due to fluid retention, taste abnormalities, throat inflammation, throbbing heartbeat, tremor, unconsciousness, upper respiratory infection, urinary tract infection, vertigo, vomiting, weakness
Rare side effects may include:
Abnormal tears or tearing, abscess, acne, aggravation of allergies, aggravation of high blood pressure, aggression, allergic reaction, altered production of saliva, anemia, belching, blisters, blood clot in lung, boils, breast pain, breast problems, breast tumors, bruising, chill with high temperature followed by heat and perspiration, decreased sex drive, delusion, difficulty urinating, excessive urine production, eye pain, facial swelling due to fluid retention, fainting, false perceptions, feeling intoxicated, feeling strange, flushing, frequent urination, glaucoma, gout, heart attack, hemorrhoids, herpes infection, high cholesterol, hives, hot flashes, impotence, inability to urinate, increased appetite, increased tolerance to the drug, intestinal blockage, irregular heartbeat, joint degeneration, kidney failure, kidney pain, laryngitis, leg cramps, loss of reality, low blood pressure, mental deterioration, muscle spasms in arms and legs, muscle weakness, nosebleed, pain, painful urination, panic attacks, paralysis, pneumonia, poor circulation, rectal bleeding, rigidity, sciatica (lower back pain), sensation of seeing flashes of lights or sparks, sensitivity to light, sleepwalking, speech difficulties, swelling of the eye, thinking abnormalities, thirst, tooth decay, uncontrolled leg movements, urge to go to the bathroom, varicose veins, weight loss, yawning
---
Q) What are the symptoms of Ambien overdose?

A) People who take too much Ambien may become excessively sleepy or even go into a light coma. The symptoms of overdose are more severe if the person is also taking other drugs that depress the central nervous system. Some cases of multiple overdoses have been fatal.
---
Q) What adverse drug interactions are caused Ambien?

A) Alcohol has an additive effect with Ambien and the two should not be combined. Ambien should be used cautiously in patients with respiratory diseases because of its depressing effect on breathing. Ambien may increase the effects of other drugs that cause drowsiness, including antidepressants, alcohol, antihistamines, other sedatives (used to treat insomnia), pain relievers, anxiety medicines, and muscle relaxants. However, caution should be used when combining it with other sedative drugs. Ambien used at higher dosages can cause withdrawal symptoms (muscle cramps, sweats, shaking, and seizures) when the drug is abruptly discontinued. Ambien can cause abnormal behavior with confusion and paradoxical insomnia and should be discontinued if these symptoms appear.
---
If you have a problem with ambien addiction call Narconon Southern California drug rehab center, we can help 1800 US NO DRUGS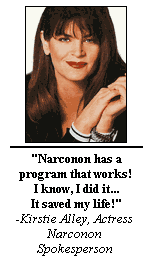 comment corner
drug rehabilitation saving taxpayers
California taxpayers are saving more money than expected due to ...

Study: Marijuana Causes Lung Damage
New research finds that smoking three or four marijuana cigarettes ...

Thanks to Online Pharmacies, Addiction Can Be Just a Click Away
WASHINGTON -- Kelly Knable, a 34-year-old mother of three from ...

Balancing pain and drug addiction
Over the past two decades, two conflicting medical ideas have ...


State officials create prescription drug abuse task force
TALLAHASSEE, Fla. -- State officials on Friday announced the creation ...

Florida system often fails to catch Medicaid abuse at source
FORT LAUDERDALE, Fla. - (KRT) - The victim's skin was ...

Marijuana's rising threat: For more kids, use turns into addiction
John Brown experimented with marijuana at age 10, and it ...

Student gets state prison term for selling marijuana
EASTON -- David Messina had his whole life ahead of ...

Man charged in cocaine case forfeits $585,000
An Iowa truck driver arrested by Kentucky Vehicle Enforcement officers ...

Cocaine Curtails Body's Ability to Cool Off
In addition to triggering life-threatening cardiovascular episodes, cocaine can be ...

Science for Cops
I admit it: I'm a Law & Order fan. ...

New Gene Therapy Could Help Quell Alcoholic Cravings
One prevailing view of addiction holds that alcohol and other ...

One Dose of Cocaine Primes the Brain for Addiction
It isn't a myth: one dose of cocaine is all ...

Marijuana Firmly Linked to Infertility
Scientists from the University of Buffalo have smoked out what ...

Moderate Alcohol Consumption Clouds Brain's Ability to Detect Mistakes
It's common knowledge that a brain on booze doesn't function ...

Narconon Pictures